Tucked away, in the idyllic setting of the Blue Ridge Mountains,  JOY BISTRO pays homage to the roots of French cuisine. Joy Bistro is a comfortable retreat for foodies; one in which an evening out easily transcends into an event. When visiting the High Country, I look forward to an intimate, cozy gathering with friends at Joy Bistro.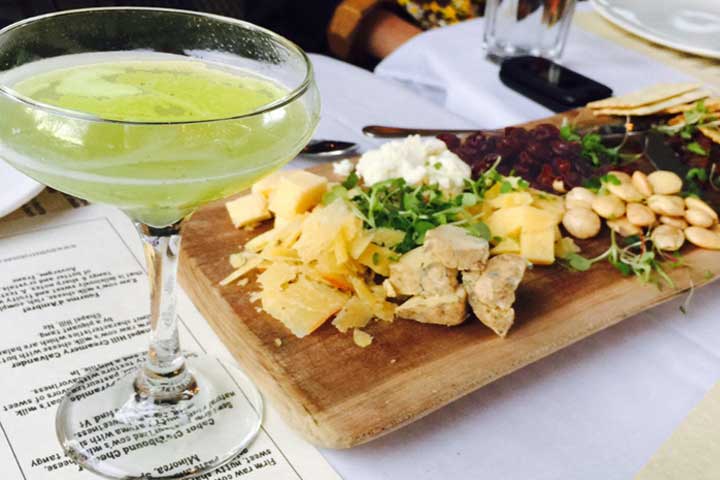 Joy Bistro, owned and operated by Gary and Melissa Joy, is located in Boone, North Carolina. Gary and Melissa moved to San Francisco for a time as Melissa studied at the California Culinary Academy/Cordon Bleu. As head chef, Melissa Claude has brought together a well-balanced menu of European and American inspired cuisine using the freshest ingredients the area has to offer. Meanwhile, in the front of the house, Gary has put together a unique mix of classic and modern cocktail recipes.  
Joy Bistro is located at 115 New Market Centre high atop the North Carolina mountains in Boone. Specializing in French-style cuisine, Joy Bistro provides a cozy, intimate atmosphere with a personal touch and attention to detail. Click HERE to learn more about Joy Bistro.
Today, I have to share with you Joy Bistro's Basil Gimlet. It's a refreshing summer drink that I love.  Here, the cocktail is served alongside a beautiful charcuterie board.  Gary and Melissa were kind enough to share Joy Bistro's Basil Gimlet recipe with me which I have posted HERE.