Jump to Recipe
A versatile highball with a nod to the past
Given the summer heat is bearing down and I happen to have a bottle of Sutler's Gin on hand I thought it would be fitting to make gin rickeys with a nod to the great American writer, F. Scott Fitzgerald. Despite Prohibition, gin was quite popular with Fitzgerald and his wife, Zelda during the Roaring Twenties. There are numerous accounts of their gin-filled parties and legendary antics including one in which Scott and Zelda jumped into the fountain at the Plaza Hotel. The gin rickey was often their drink of choice.
This cocktail makes an appearance in The Great Gatsby, considered by many to be the greatest American novel of the 20th century. In chapter 7, Fitzgerald writes a pivotal scene in which Tom Buchanan confronts Gatsby about his feelings for Daisy. As with many Fitzgerald novels, cocktails help paint the scene.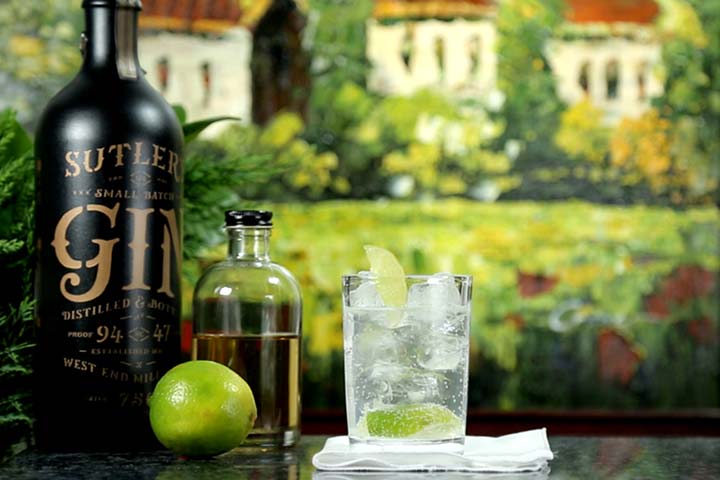 Gin Rickey
The simplicity of the gin rickey has made it a popular drink for close to a century. Purists forgo sweeteners; however, you may add simple syrup or a sweet liquor if you like.
Ingredients
2

oz

gin

1/2

lime

club soda or seltzer water
Instructions
Fill highball glass with ice.

Squeeze in lime.

Add gin.

Toss in lime half.

Top off with seltzer or club soda.
Notes
World Gin Day is celebrated annually on the second Saturday in June. I suspect if Scott and Zelda were around today, they would observe the holiday.
Scotch, rum and applejack variations of the cocktail were also the rage in the 1920's. Today, rye and bourbon versions are popular. Substitute ginger ale for soda in any variation of a Rickey and you have a Buck—better known as a Mule these days.