Jump to Recipe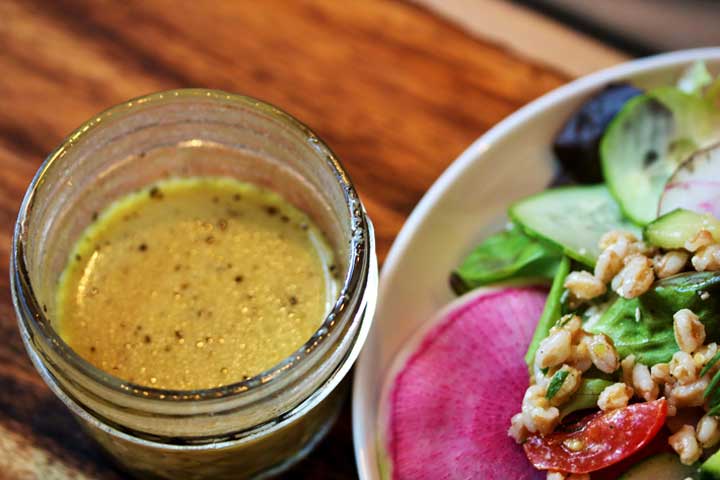 I know what you're thinking—but it's finally fall! Chuck out the green stuff and bring on the carbs! Look, I can hibernate with the best of em, but you gotta trust me—with the addition of my Mediterranean Farro Salad and tangy Apple Vinaigrette, this fall harvest salad is hearty and filling. Perfect paired next to a whole roasted chicken or as a lighter lunch on those warmer fall days. Coming off the tail-end of spring, I used mixed greens that were still available at the local market, but as it gets cooler I would substitute kale and/or arugula. The peppery watermelon radishes with the slightly sweet vinaigrette has all the flavors of fall to leave you feeling extra comforted, Enjoy!
Fall Harvest Salad with Apple Vinaigrette
This salad includes my Apple Vinaigrette and Mediterrranean Farro Salad. Links to these recipes are provided in this Fall Harvest Salad post.
Ingredients
mixed greens

1

cucumber

1

watermelon radish

apple vinaigrette

Mediterranean Farro Salad

fresh dill

optional
Instructions
Thinly slice the cucumber and watermelon radish using a mandolin slicer on the thinnest gauge.

Lightly dress the mixed greens with the apple vinaigrette.

Arrange the thinly sliced cucumber and watermelon radish on top of the dressed greens.

Top with Mediterranean Farro salad and fresh dill (optional).

Season to taste.
Note: This salad includes: my Mediterranean Farro Salad recipe—get the recipe here, and my Apple Vinaigrette recipe posted here.