bbq chicken stuffed sweet potatoes with tangy goat cheese and all the fixins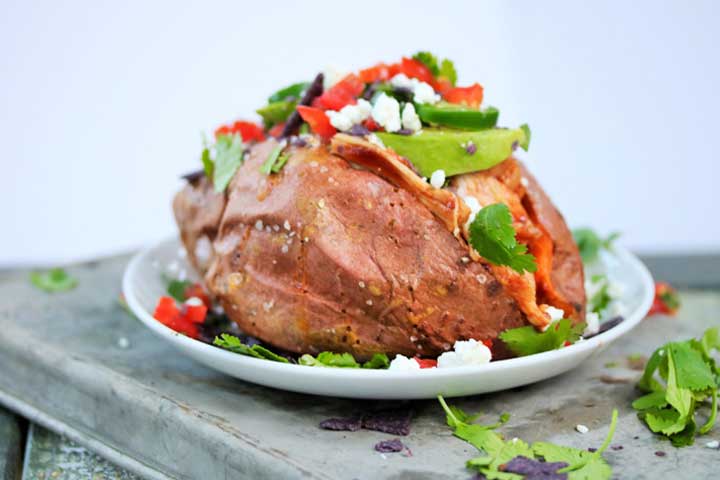 This recipe will literally change your life! I am still in shock at how well it turned out and to be honest I think I'm scarred for life. No one wants to peak, but guys this is hands down the best recipe I've ever come up with. I've even contemplated buying a food truck with the sole purpose of dishing out stuffed sweet potatoes to the masses! Even the tough critics out there who despise sweet potatoes are about to be jumping for joy when you make this recipe at home. The sweet earthiness from the sweet potatoes, tanginess from the goat cheese, and the smokiness from the barbecue sauce – I mean…come on! It's Perfection!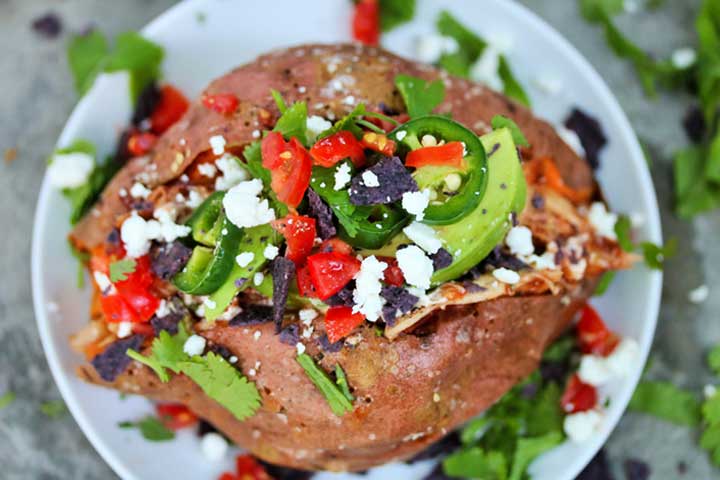 First, let me back up for a second and tell you exactly how this all came to fruition. So, like many great inventions, this recipe was developed amongst friends after a couple (several) beers. My friend Drew and I were checking out a new brewery and decided to grab some nachos from the local food truck there. The nachos were a bit strange, but intriguing all at the same time – beef brisket, salsa verde, all your favorite typical nacho toppings, but (and here's the kicker) they used goat cheese! Goat cheese on nachos? It was too weird even for me.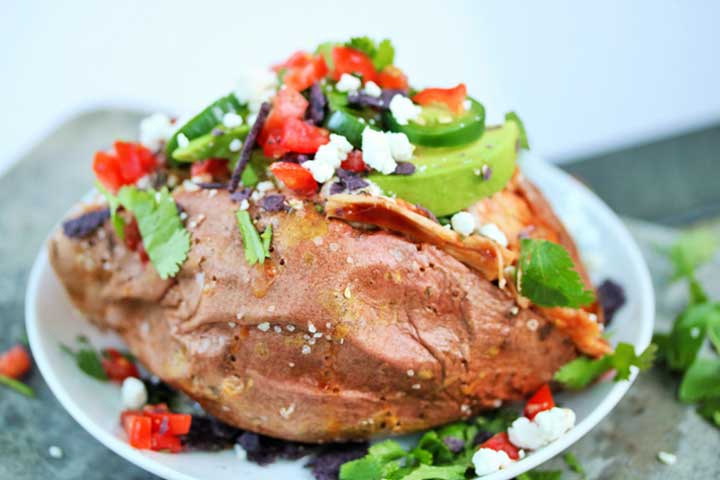 I like to think I'm adventurous enough to have ordered these no matter what, but to be fair I really think my liquid courage state gave me the nudge I needed to follow through. The nachos were pretty good, but the goat cheese made the dish! Just like that a light bulb went off, the gears started turning, and yours truly set out to develop a recipe that encompassed all of my favorite flavors into one dish. This is a healthy, fun dinner recipe on a budget and I promise it will be one of your favorites! This recipe can easily be adapted for vegetarians or if you prefer a different meat sub pulled pork or brisket. Enjoy!
Twisted Spud
Try my BBQ chicken stuffed sweet potatoes with tangy goat cheese and all the fixins. This recipe will change your life and it's a great crock pot recipe!
Ingredients
4

large sweet potatoes

3

chicken breasts

1

bottle of your favorite BBQ sauce

1

container of goat cheese crumbles

1

avocado – sliced

crushed blue corn tortilla chips

2

roma tomatoes – diced

1

fresh jalapeno – sliced

1

bunch chopped cilantro

Optional: salsa verde – recipe link is in my post!
Instructions
Preheat oven to 400F and begin prepping the sweet potatoes – scrub the sweet potatoes with a clean brush or washcloth to remove excess dirt from the skin. Rub the exterior of each potato with olive oil and sprinkle with kosher salt. Place in a glass baking dish and cook uncovered for 45 minutes.

BBQ Chicken – Slow cooker method: Place the chicken and your favorite BBQ sauce in a crockpot and cook on low for 4 hours or until chicken shreds apart easily. Oven method: Preheat your oven to 275F and place chicken breasts in a glass baking dish. Pour the BBQ sauce over the top and wrap tightly with aluminum foil. Slow roast in the oven for 2 hours or until the chicken shreds apart easily (both methods can be done a day in advance).

To assemble – take the cooked sweet potato and split down the middle. Fluff the orange flesh and then stuff with the shredded BBQ chicken.

Top each potato with goat cheese, diced tomatoes, sliced avocado, fresh chopped cilantro, fresh sliced jalapenos, and crushed blue corn tortilla chips.

Drizzle with more of your favorite BBQ sauce or top with my signature salsa verde, you can find the recipe here!
This recipe is great with my Salsa Verde. Get the recipe HERE.