Jump to Recipe
When strawberries are in season this light and airy dessert is perfect. These strawberry cream puffs start with a homemade pate a choux.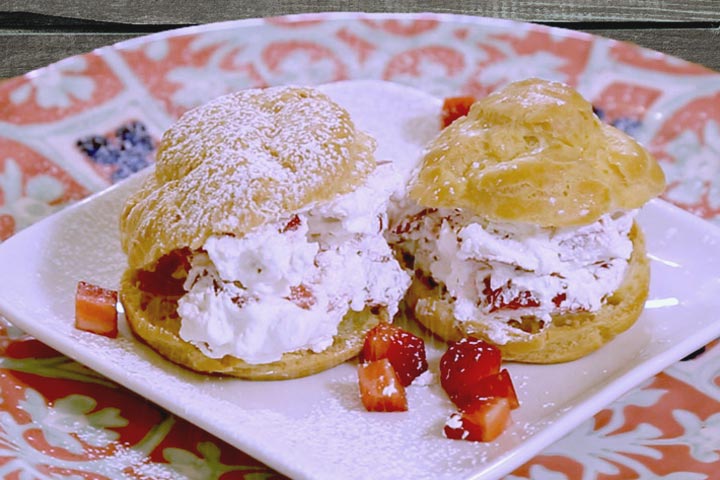 Pate a choux is an airy and light French pastry dough – "pate" meaning paste and "choux" meaning cabbage because of their resemblance to little cabbages once they've puffed up in the oven. Once you know how to make a basic pate a choux you can create all kinds of things.
Watch the video
Pipe the dough onto your baking sheet in straight lines for eclairs; pipe smaller rounds for mini appetizers. You can also try different fillings. Fill with ice cream and drizzle with chocolate sauce for profiteroles. For savory puffs, omit the sugar from the basic pastry recipe and fill the cooled puffs with chicken or crab salad just before serving. Have fun with it.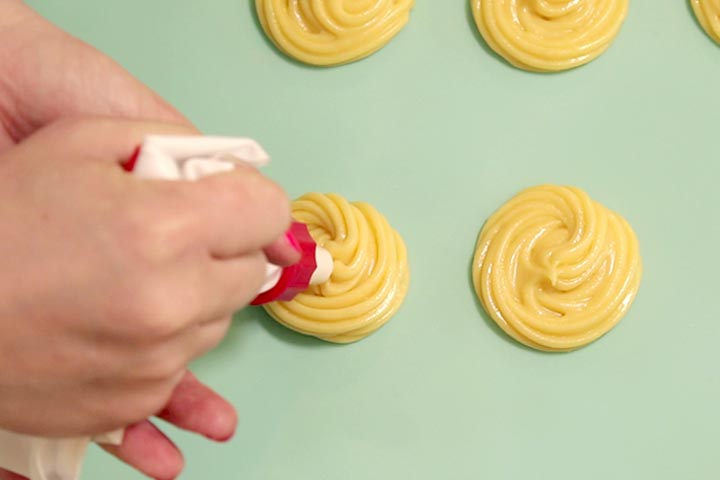 Basic Pate A Choux for Cream Puffs
Yield: 15 Large or 24 Small Cream Puffs

Ingredients
1

cup

water

8

Tbsp

unsalted butter

cut into small cubes

1/2

tsp

salt

1

tsp

sugar

1

cup

all-purpose flour

sifted

4

large

eggs
Instructions
Combine water, butter, salt and sugar in a heavy-bottomed pot. Bring to a full boil over medium high heat.

Remove from heat immediately and add the flour all at once.

Return the pot to medium-high heat and stir continuously for 2-3 minutes until the mixture pulls away from the sides and a film forms on the bottom of the pot. This eliminates any excess moisture.

Remove from heat and allow the mixture to cool for 5 minutes, stirring occasionally.

Once cooled, beat in each egg one at a time by hand with your wooden spoon (*it's important that the mixture has cooled prior to this step or else the eggs will scramble). Fully incorporate each egg, making sure the paste is smooth, before adding the next. Continue to beat the egg dough with the wooden spoon until it transforms into a smooth, shiny paste.

At this stage the dough paste can be stored in the refrigerator up to 4 hours. Once cold, you do not need to bring to room temperature before shaping.

Line a baking sheet with a nonstick silicone mat or parchment paper. Fill a pastry bag with cream puff batter. Using a 1" decorating tip, pipe the paste on to your sheet pan in circles. Leave about 2" between each puff as they will double in size.

Position rack in the lower third of the oven. Preheat oven to 400F. Bake the puffs for 15 minutes then reduce oven temperature to 350F and continue to bake till golden brown and firm to the touch, about 20 minutes more. Turn off the oven. Poke the bottom of each puff, turn upside down on the baking sheet, and let dry in the oven for 10 minutes. Transfer puffs to a rack and cool to room temperature.

Once cooled, use a serrated knife to slice the tops off the puffs. Remove any uncooked paste, and fill. Place the tops back on and sprinkle with powdered sugar.

Store in an air-tight container in the refrigerator. Use within 24 hours.
Notes
Making pate a choux will give your arms a workout, but it's much better when you make it by hand using a wooden spoon rather than a mixer.
Use a 1" decorating tip for large cream puffs. For smaller puffs use a ½ inch tip. If you do not have a decorating tip, simply use the bag without a tip. Measure the tip opening of your pastry bag and cut to size.
Filling
Ingredients
2

cups

lightly sweetened whipped cream, coconut cream or other whipped topping of choice

2

cups

fresh berries

washed and drained
Instructions
Fold berries into whipped cream. Make sure your berries are dry and hold no water.
Notes
This recipe is versatile. Use strawberries, raspberries, blueberries, blackberries or a mixture of all if you like. Be sure the berries have been washed and set out to dry so that they retain no moisture as this would make the filling runny and your cream puffs soggy when stored in the fridge.  If storing, Cool Whip will last longer than fresh cream.