Literally translated Cacio e Pepe means "cheese and pepper"
Cacio e Pepe is a traditional pasta dish featured in a lot of authentic Italian restaurants and has quickly grown to become one of my favorite go-to weeknight dinners.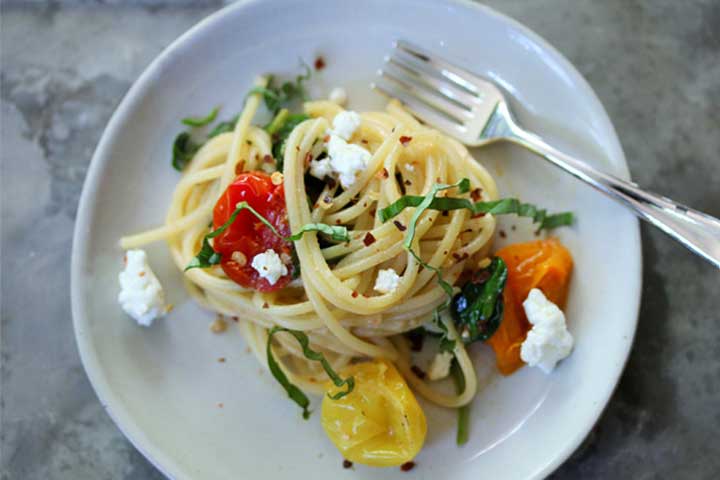 Cacio e Pepe perfect as is, with just some fresh grated pecorino and cracked black pepper, but with a few simple additions from your local market, it's out of this world!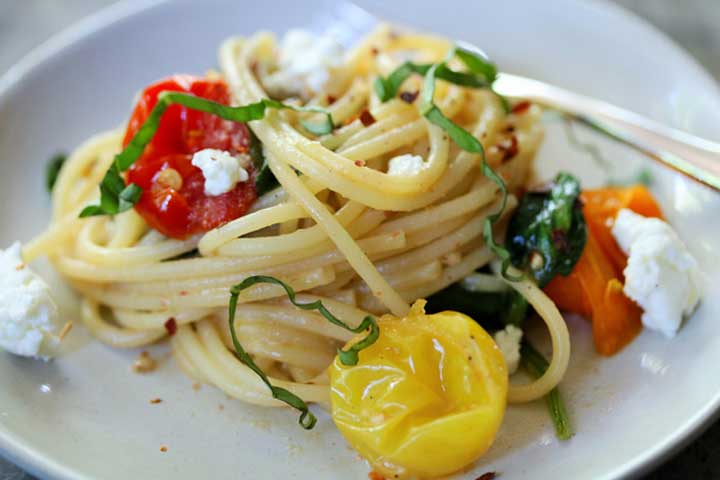 In this particular version, I opted for fresh local goat cheese, baby spinach, and cherry heirloom tomatoes from the farmers market. If you don't like goat cheese no worries! Stick to tradition and use parmesan or pecorino. Sometimes simplicity is key and as long as you are using quality ingredients, it will still wow your guests without breaking the bank. This is sure to be one of your new favorite pasta dishes and go-to meals. Enjoy!
Cacio e Pepe
Ingredients
kosher salt

¾

lb

thin spaghetti

3

Tbsp

unsalted butter

1

Tbsp

olive oil

1

Tbsp

fresh chopped garlic

1

tsp

red pepper flakes

4

oz

goat cheese

1

pint

cherry tomatoes

I used heirloom variety

1

c

fresh baby spinach

fresh basil
Instructions
Preheat your oven to 400F

On a baking sheet toss the tomatoes with a little olive oil, salt & pepper. Roast in the oven for 20 min or until they blister and pop. Set aside.

In a large 5-qt pot, bring 3 quarts of water to a boil and season with a generous pinch of kosher salt – this will season the pasta as it cooks. Be sure to wait until your water is boiling before adding the salt as kosher salt can scratch the surface of your pot.

Once boiling add your pasta and cook for 6-8 min (approximately 2 min before the directions on the box considers the noodles to be al dente) – You will finish cooking the pasta in the sauce.

While your pasta is cooking, in a separate pan combine the olive oil, butter, garlic, and red pepper flakes. Sauté this mixture over medium heat until the butter toasts and becomes a bit tan in color and the garlic is cooked through. DO NOT let your garlic burn or the dish will become very bitter.

Add ¾ c. of pasta water to your sauté pan (the starchy water from your 5-quart pot that you are using to cook your noodles) – this starch will help develop the sauce.

Next add your goat cheese, roasted tomatoes, and fresh baby spinach. Stir until the spinach is wilted and all of the goat cheese is combined into the sauce.

Using tongs add your par-cooked pasta to the sauté pan and finish cooking in the sauce for 2-3 minutes. Toss until all the noodles are evenly coated with the sauce – add more of the pasta water if the sauce becomes too thick or dry.

Portion the pasta into serving bowls, garnish with fresh basil, and a few more red pepper flakes.