Jump to Recipe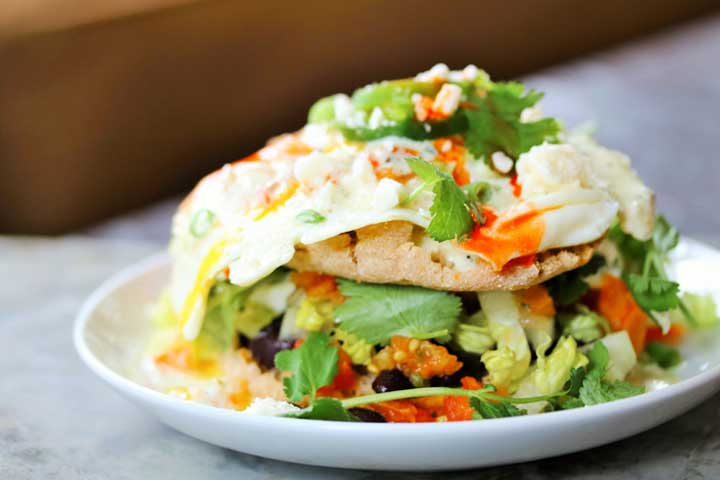 Have you ever had a friend convince you to try something new, they go on and on about how amazing it is, but then it's a total let down? Yea – this is not one of those times. This past Sunday I threw a huge super bowl party and my friend Chelsea offered to help out and bring over some chips and "salsa." Seemed innocent enough. Little did I know she was about to walk through the door with some green goddess life changing sauce from a restaurant named Chuy's. It's called jalapeno ranch dip and I am not kidding, this stuff is like liquid gold! I mean from the minute I tasted it I developed an unhealthy obsession with how to incorporate it into every single meal. Even as I'm writing this I'm laughing because the truth is I've already consumed it twice before dinner with the intention of having it at dinner too! This recipe for Double Decker Huevos Rancheros features a copycat recipe for Chuy's signature jalapeno ranch dip.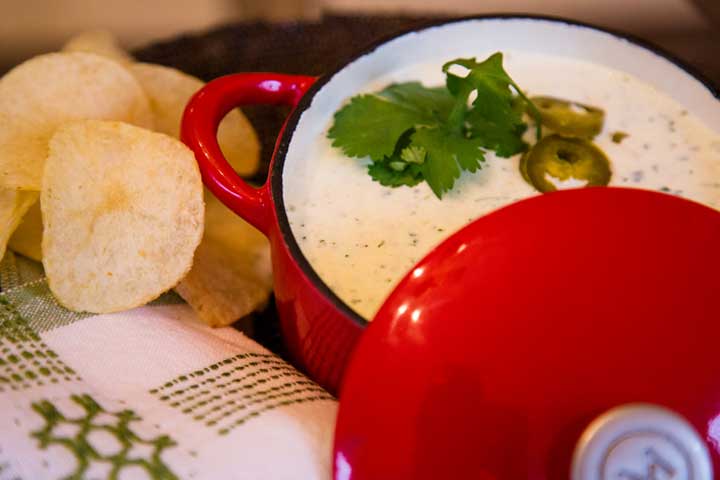 I used several copycat recipes online to guide me on how to develop this amazing sauce and I've gotta tell ya, I think I've perfected it! This sauce pairs perfectly with Buffalo wings, tortilla chips, and fresh veggies or even on wraps. Click here to get my recipe for Chuy's Jalapeno Ranch Dip. Still, the best creation I've developed thus far are these amazing Double Decker Huevos Rancheros. This is a perfect brunch recipe, but easily enjoyed anytime of the day. The English muffin makes a perfect platform for all of your different layers of flavors and I love to make each section different so that when you take that first gargantuan bite all the flavors just hit you! I can't wait for you to try this recipe at home and let me know what you think. Enjoy!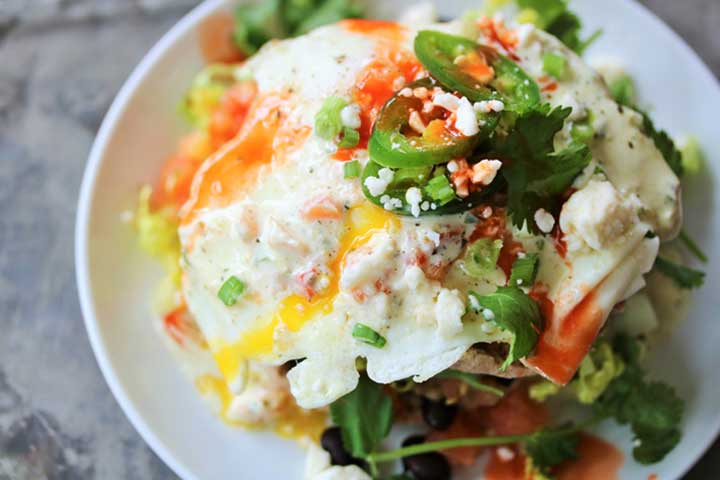 Double Decker Huevos Rancheros
Ingredients
Chuy's jalapeno ranch dip

recipe link provided in my post

1

egg

1

Tbsp

butter

pico de gallo

fresh or prepared

cilantro

1/4

cup

black beans

fresh jalapenos

chopped romaine lettuce

hot sauce

cojita cheese or feta cheese

sour cream
Instructions
Add butter to a non-stick frying pan. Fry the egg on medium-low temperature without seasoning for 1-2minutes. Once the whites are completely cooked and the yellow sun is beginning to stiffen flip the egg over to cook the other side. Remove from the heat and cover with a lid. Allow to finish cooking for 2-3 minutes. This will ensure an over-medium cooked egg.

While the egg is resting, toast the English muffin.

To assemble, place one half of the English muffin on a plate. Spread a tablespoon of sour cream and top with black beans and finely chopped romaine lettuce. Next place a hefty portion of pico de gallo.

Top with the other half of the English muffin and add a healthy dose of the jalapeno ranch dip to the center of the newly placed English muffin.

Top with the over-medium friend egg and little more jalapeno ranch dip

Season with salt and pepper, garnish with fresh cilantro, freshly sliced jalapenos, hot sauce and either cojita cheese or feta.