Jump to Recipe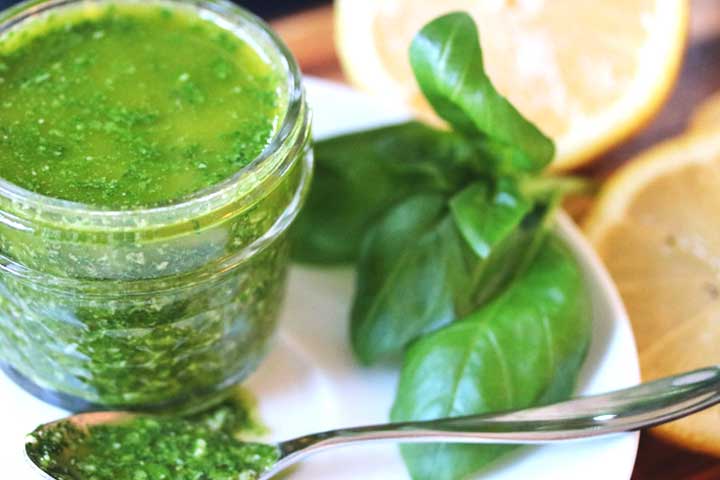 If you're anything like me this whole "new year, new me" slogan has got you obsessing once again over all the unrealistic new year's resolutions you've made. Inevitably mine are always focused around dieting and exercising because let's face it people – I LOVE FOOD. Each year I always give myself a goal to work towards. This year, it's running in the annual Cooper River Bridge Run in Charleston, SC with a group of my girlfriends. Note: if you set a fun goal with a celebratory ending (mimosas at the beach for a girls' weekend) then you've instantly added a positive spin on something you dread.
watch the video
Still, even with a goal in sight, I know that if I don't have a little wiggle room I'll be knee-deep in candy wrappers and pizza boxes by the end of February. So instead of depriving myself of all of my favorite things I've learned great ways to incorporate a lot of bold flavors so that my cravings are satisfied in much smaller doses.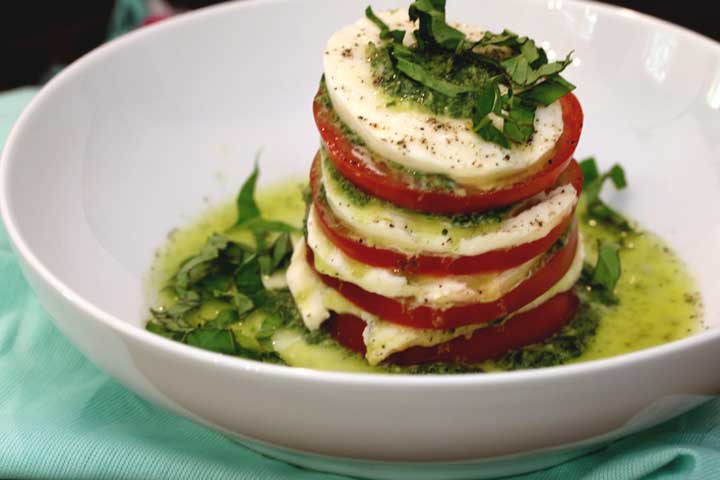 Ergo, basil pesto. Queue the theatrical music because I kid you not this stuff is every dieter's dream! Don't be fooled by the calorie count either, adding a dollop of this yummy concoction will give you all the boost you need to stay focused and eating healthy. Plus it is packed with healthy unsaturated fats, vitamin A, C, calcium and iron. Added bonus: basil-based pesto contains compounds that help fight disease-causing free radicals. I've started adding this to literally everything: tuna, quiche, grilled chicken, and even a tablespoon on top of my vegetable soup. Still, I have to be honest. My favorite way to enjoy basil pesto is slathered on naan bread and covered in feta…look, I never said I was perfect.
Basil Pesto Two Ways
Ingredients
3

cups

fresh basil leaves

1/3

cup

parmesan cheese

freshly grated

2

cloves

garlic

1

lemon

zest and juice

1/4

cup

pine nuts

toasted

1/2

cup

olive oil
Instructions
Add the fresh basil leaves, grated parmesan cheese, garlic cloves, lemon zest and juice, and toasted pine nuts to a food processor or blender. Blend or pulse until the ingredients are all combined.

Next, as the food processor or blender is running, stream in the olive oil until all the ingredients are emulsified and you have a thick creamy consistency.

If the consistency is too thick add a little more lemon juice or olive oil. Season to taste and voila!
Notes
In this video we used a mini food processor and combined all the ingredients at once. Our results were great, but traditionally you would slowly stream in the olive oil to reach the consistency you desire. Have fun with it and do whichever you'd like.
Still, no matter how you choose to enjoy it this recipe is sure to become one of your favorite staples. I hope you love this recipe as much as I do. It is easy, nutritious, and delicious!