C'mon, spoil yourself a little! This cocktail is bright, cheery, and a breeze to make. It's a real showstopper when entertaining friends and easy enough to prepare in batches. Trust me, this is the way to go when you're making these for a large group. Simply serve on the rocks and top with a spritz of blood orange-flavored soda. On the other hand, if you're making this cocktail for yourself and a friend or two, it's elegant presented strained, in a chilled martini glass. You'll absolutely love it!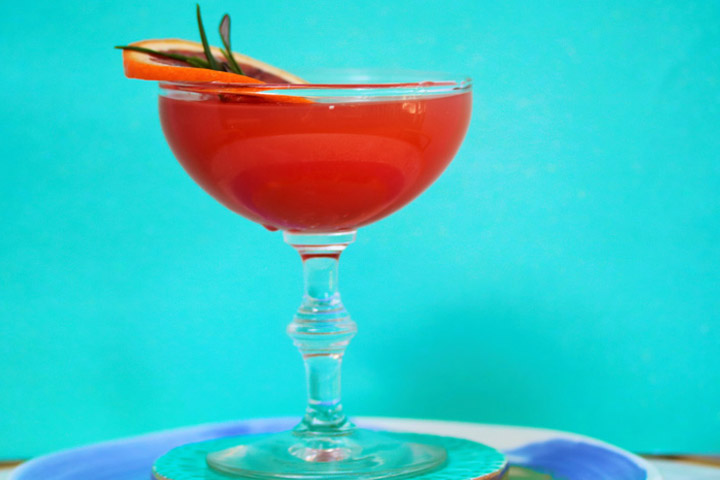 Blood Orange Rosemary Martini
Ingredients
juice of half a blood orange

1.5

oz

vodka

.5

oz

triple sec or cointreau

1

sprig

rosemary

slice blood orange for garnish
Instructions
Muddle a small clipping of rosemary in the bottom of your cocktail shaker

Add ice ¾ the way up your shaker

pour in blood orange juice, vodka and orange liqueur

Shake vigorously for 30 seconds

Double strain into a chilled martini glass

Cut a large swath of blood orange peel and express the essential oils over the
cocktail being sure to rim the glass

Garnish with a slice of blood orange and a small sprig of rosemary
Notes
If preparing for a group, make a large batch, serve over ice and top with soda and garnish.
Keep in mind that it may be difficult to find blood oranges year round. Most grocery stores carry blood oranges from December through May. You may find bottled sources in the chilled juice section of your store. In a pinch, Cara Cara oranges with a little hibiscus syrup will do the trick. Simply, omit the orange liqueur. There are also a number of online sources including Natalies Blood Orange Juice.