Jump to Recipe
Someone stopped me recently at a charitable event and asked one of the best questions I've ever had the pleasure of answering. I love questions that provoke a lot of thought—questions you haven't memorized the answer to or respond to at the drop of a hat. It's such a simple question too, but just as some of the best recipes are the least complex; this question was the right amount of simplicity and thoughtfulness.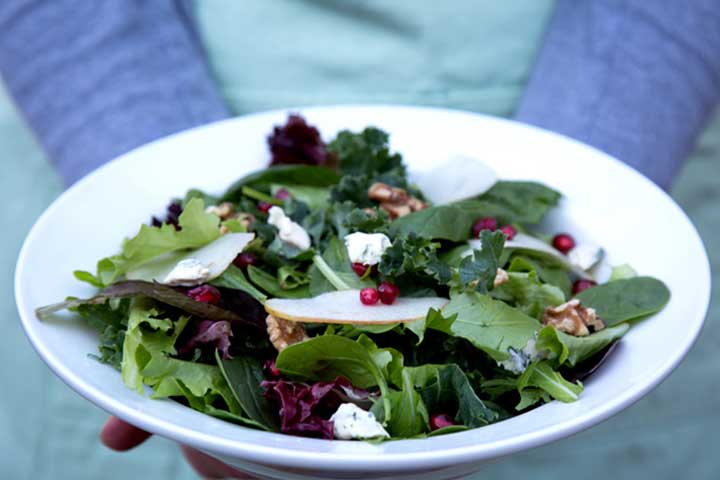 The guy asked me, "So how do you develop your recipes? Like what's your process?" I was honestly stumped for a second because what I wanted to say was that my recipes are often experiments tested on hungry friends in their twenties who wouldn't dare turn away a free meal. I thought this might hurt my credibility a little so I gave it some thought.
Though it's true that all of my recipes end up at this "taste-test" phase, the real initial development comes from a small piece of inspiration. Whether it's an unusual ingredient I see on an episode of Chopped, a photo on Instagram, or learning about a culture's cuisine—I take that small tidbit and then develop all the elements till I reach a recipe worthy of a trial run.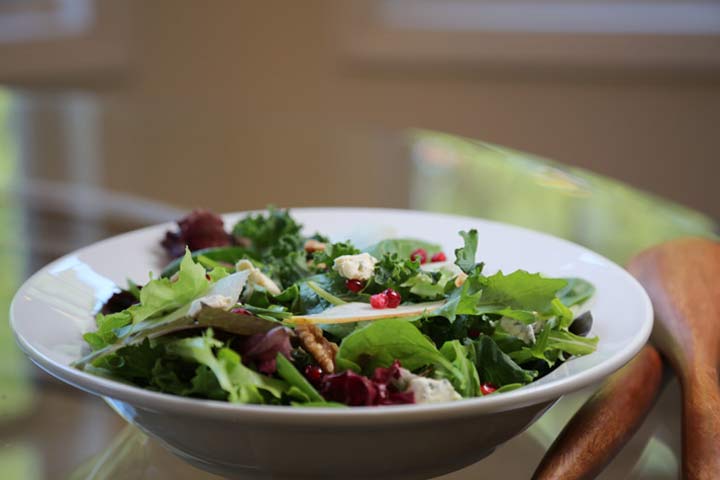 I tell you all of this because it's actually how this winter salad came into fruition. I picked up a William-Sonoma catalog and fell in love with a picture of a pear winter salad. The colors popped off the page and I immediately began to think of ways to create my own winter salad.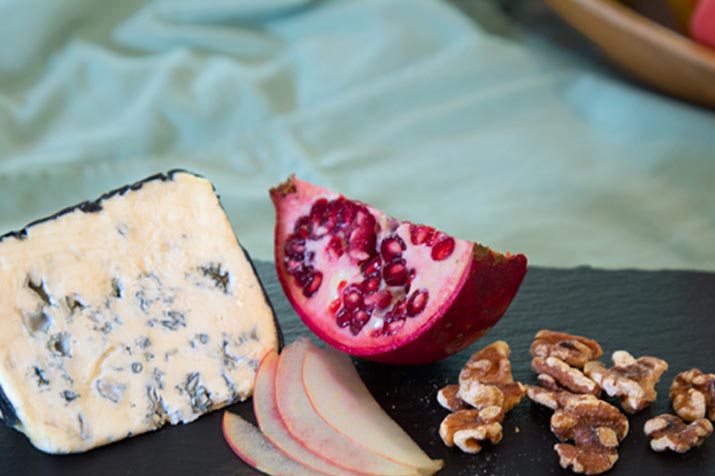 I think you'll like it. The tartness from the apples pairs perfectly with the sharpness of the bleu cheese. I add pomegranate seeds for a pop of color and sweetness, then finish with toasted walnuts for some crunch. I hope when you enjoy this bleu winter salad it inspires you to do some experimenting of your own in the kitchen. Enjoy!
Bleu Winter Salad
Ingredients
mixed greens

pomegranate seeds

walnuts

bleu cheese

1

apple

1

lemon

1

cup

water

apple cider vinaigrette
Instructions
Using a mandolin or a peeler, slice thin pieces of apple and place into a bowl with water and the juice of one lemon. The lemon water will help keep the apples from oxidizing too quickly. Set aside.

On a baking sheet, spread your walnuts out in a single layer and toast at 350F for 5-8min.

*be careful you don't want these to burn – as soon as you begin to smell a nutty aroma pull them out of the oven and sprinkle with salt. Set aside to cool.

In a medium-sized mixing bowl, pour the apple cider vinaigrette in the bottom of the bowl and place your mixed greens on top. Depending on the amount of greens you use will determine the amount of apple cider vinaigrette

Use tongs to lightly dress the greens – I have found that a little dressing goes a long way. You don't want to overdress the salad as this will wilt the greens.

Place the lightly dressed greens onto your desired serving plates.

Arrange the pomegranate seeds, toasted walnuts, and apples on top.

Finish with crumbled bleu cheese, salt and freshly ground black pepper.
Notes
This salad calls for my Apple Cider Vinaigrette. I've provided a link to my recipe for Apple Vinaigrette in this post below.
Get my recipe for Apple Vinaigrette HERE.