Ever since Trader Joe's made history with Everything but the Bagel Seasoning, I've been looking for more and more ways to incorporate it into recipes. Although there are several brands now that offer bagel seasoning, we run through it so quickly in our household that I've included the ingredients at the bottom of this recipe to create your own.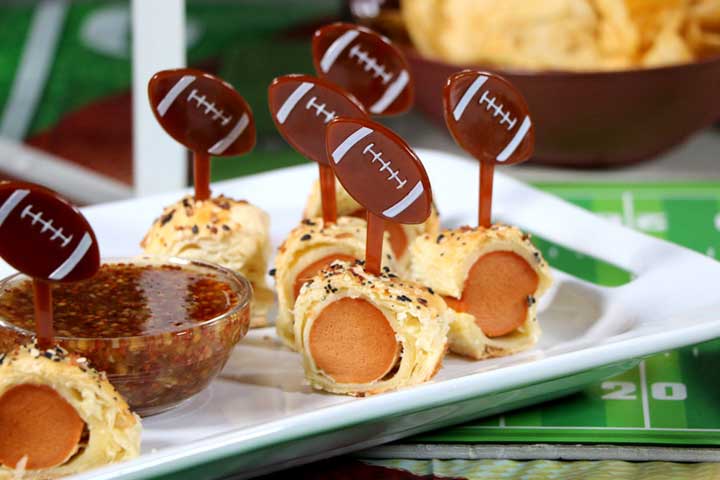 This fun take on pigs in a blanket is a crowd-pleaser and game day must! I often make two batches – one with regular hot dogs and one with tofu dogs so that my vegetarian guests have a hearty snack. I hope you and your friends love these little gems as much as we do.
Bagel Dogs with Stoneground Honey Mustard
This fun take on pigs in a blanket is a real crowd-pleaser and game day must!

Ingredients
1

pckg

puff pastry

1

pckg

hot dogs or veggie dogs

Bagel seasoning

store bought or recipe to create your own below

1

egg

2

Tbsp

water

for egg wash

Stoneground mustard

Honey
Instructions
Thaw store-bought puff pastry according to package instructions.


Roll out onto a cutting board and cut each piece to fit entirely around each hot dog (you will cut each bagel dog into individual pieces after baking).

In a small bowl combine the egg and water to create an egg wash. This will be your "glue" – using a pastry brush or your finger place a small strip of the egg wash mixture on one end of the dough to securely fasten to the other end of the dough, fully encompassing each hot dog.

Place each puff pastry wrapped hot dog onto a baking sheet and brush the tops with the remaining egg wash.

Sprinkle liberally with bagel seasoning.

Bake according to time and temperature of your package of puff pastry For the Stoneground Honey Mustard: using a 1:2 ratio mix 1 part stoneground mustard with 2 parts honey – mix until thoroughly combined.

Once your bagel dogs are golden brown, remove from the oven and allow to cool for 5 minutes.
Notes
Using a serrated knife, slice each bagel dog into bite size pieces and serve alongside the stoneground honey mustard for easy dipping. Enjoy!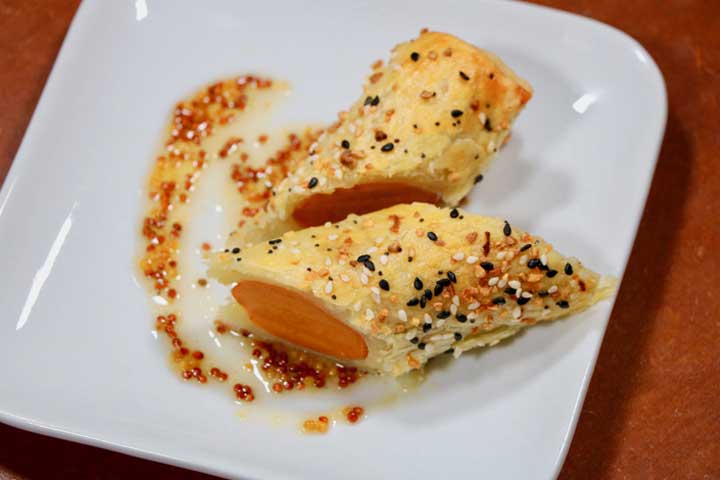 Bagel Seasoning
Using equal parts, combine all ingredients and mix until evenly distributed. Store in an airtight container or old spice jar.
Ingredients
Poppy Seeds

White sesame seeds

Dehydrated chopped onion

Dehydrated minced garlic

Flaked sea salt (Maldon)