Jump to Recipe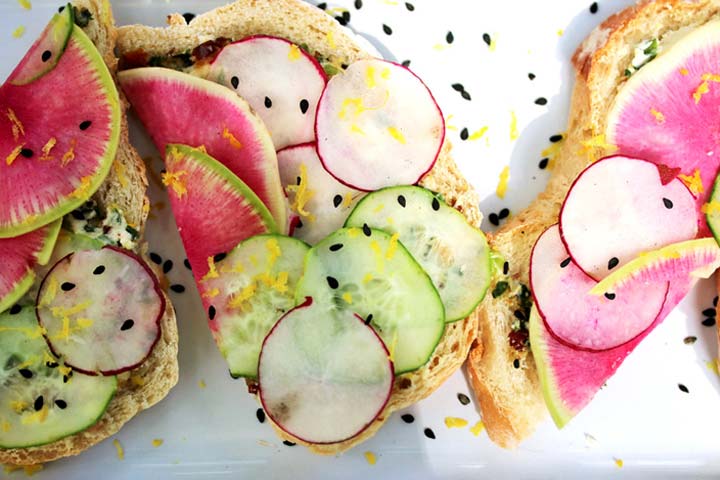 I never thought I would be saying this, but toast is all the rage these days. Every new restaurant I explore or cookbook I pick up there's a different take on elevating this once dull canvas. I find that toast is the perfect dish to serve when entertaining because the components can easily be made in advance and either assembled by my guests or quickly before everyone arrives. Toast really is a form of art and once you make it you'll know exactly what I mean. You'll find yourself looking at all the colorful produce or thinking of new crazy concoctions that might pair together plus, your guests will love the artistic freedom of designing their own.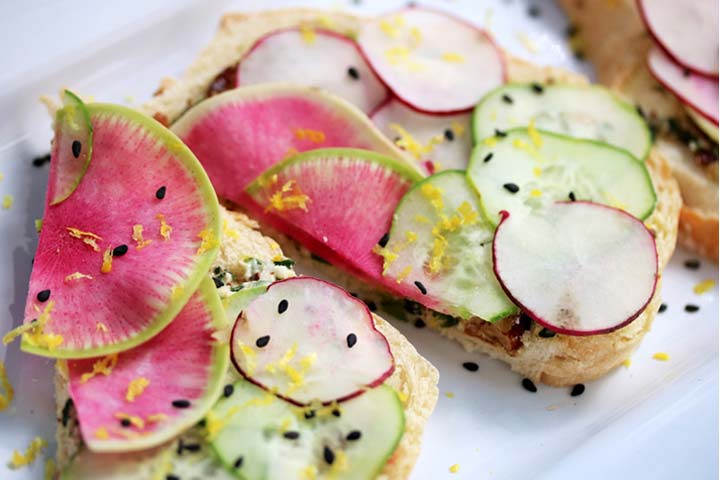 In the morning I do almond butter, sliced bananas and a drizzle of honey, but for lunch or entertaining I do a savory toast like this watermelon radish and cucumber. I start with the cheese spread from my Southern Cheeseball Recipe, which can be made in advance, and using a mandolin slicer I get thin slices of the watermelon radish, red radish, and cucumbers. If you don't have a mandolin slicer don't fret! Use a peeler to get thin ribbons and lay them across the toast. Once you cut your creation on the bias you will see how impressive it is. Colorful, flavorful, and paired perfectly with a fruity white wine. Try this toast at your next party and have fun with whatever vegetables are in season! Garnish with fresh lemon zest, black sesame seeds, or fresh herbs for added color and flavor. Enjoy!
Watermelon Radish & Cucumber Toast
Ingredients
good sourdough bread

sliced

Southern Cheeseball Spread

english cucumber

watermelon radish

red radish

lemon

black sesame seeds

salt & pepper
Instructions
Using a peeler or mandolin slicer, slice the cucumber, radishes and watermelon radishes into very thin circular slices, set aside.

Note: if slicing in advance, place the slices in cold water and set in your fridge for up to a day—the watermelon radishes will give off an odor the longer they set out so you may opt to not slice the watermelon radishes in advance.

Toast your bread, dry, in the oven at 350F until toasted but not browned.

Allow your toast to cool for 5 minutes.

Generously spread the cheese mixture from the Southern Cheeseball recipe onto the toasted sourdough.

Layer your sliced vegetables—I love to overlap the slices because once it is cut they look so colorful and artistic.

Grate fresh lemon zest over the top and garnish with black sesame seeds.

Season with salt & pepper—cut the toasts on a bias or into 4 little triangles and place on a serving platter.