Jump to Recipe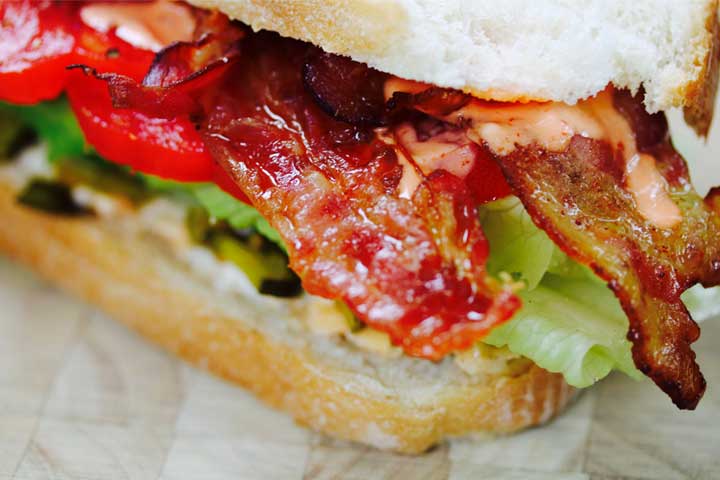 It's all good baby bay-bee
On a whim one Saturday, my good friend Clay decided to go to the farmers market here in Charlotte, NC. I have to note that one of the best things you can do when you wake up on Saturday and go to the market is to go without a plan. Let the produce and the vendors dictate what you ultimately decide to make. I wish that I could say I was the brainchild behind this recipe, but that feat, as well as the cleverly titled name, goes to Clay.
First and foremost, I absolutely love a traditional BLT. There's just something about the crisp lettuce, salty bacon and sweetness from the tomatoes that pairs perfectly on toasted white bread with Duke's mayonnaise (yes, it has to be Dukes). I mention this solely because I know many of you purists out there are going to scoff at the mere mention of adding ingredients to a BLT, but trust me on this. It's delicious!
There have been many renditions of the "Ultimate BLT" or "Ain't Yo Mama's BLT" but in our household we've developed a masterpiece that lives up to its iconic name. It incorporates great local produce from the market, specialty items from around the area, and a foolproof way to get the perfect crispy bacon. This sandwich is so versatile and can be served for Sunday brunch, lunch or even dinner. It features a lot of great items from our local market and surrounding area, but I encourage you to venture out to your local market and see what similar items are being offered in your area.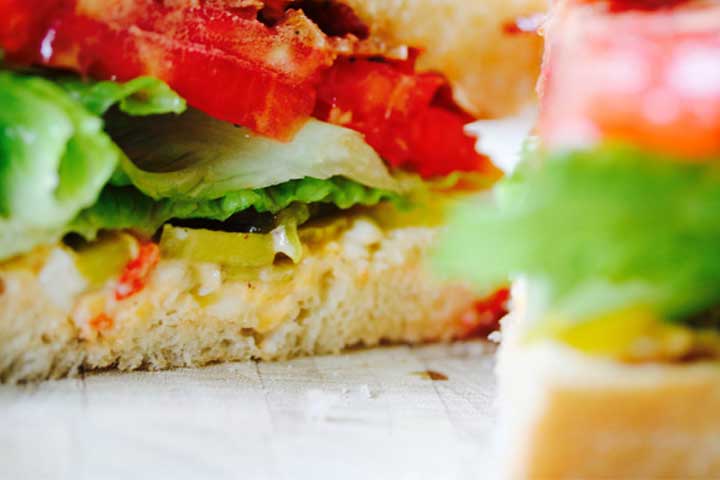 Bacon: Lost Branch Farms (Lansing, NC)—Uncured bacon; Since 1918, Lost Branch Farms has been a family owned farm. They are now 5 generations strong with almost 100 years of experience. To order, email Lostbranchfarm@gmail.com or contact Emily Parsons 336.977.8651
Pimento Cheese: Kathryn's Cottage Kitchen (Mooresville, NC)—Jalapeno Pimento Cheese; Inspired by her mother's recipes, Nancy Little Hucks started this family owned business. They are famous for Mrs. Dora Blaine Little's bleu cheese dressing, but in our house it's all about her pimento cheese. You can order from an array of dressings, sauces and spreads online. kathrynscottagekitchen.com
Honey: Herb's Honey Moutain Orchard (Charlotte, NC)—South End Honey; North Carolina raw honey with many different varieties based on location and season. We chose the south end honey because it is an early summer honey with a lot of sweetness and buttery notes. Order honey at herbshoneypot.com
Bread: Duke's Bread (Charlotte, NC)—Sourdough; Founded in January 2010 this small bakery sets itself apart from others in the area by aging the dough. They maintain a 200-year-old sourdough starter that is incorporated into all of their doughs, which are then aged for up to 24 hours prior to baking. Check out their website to find a retailer. dukesbread.com
Try my Refrigerator Bread & Butter Pickles with the Notorious BLT. They're so easy and can be stored in your refrigerator up to a month.
The Notorious B.L.T.
Ingredients
8

slices

fresh baked sourdough bread

toasted

1

heirloom tomato

1

head romaine lettuce

bread and butter pickles

jalapeno pimento cheese

1

lb

local uncured bacon

3-4

Tbsp

Sriracha

depending on your heat level

1/2

cup

Dukes Mayo

salt/pepper

2

tsp

cayenne pepper

honey
Instructions
Perfect Crispy Bacon: There are two major components to this 1. Starting with a cold oven, and 2. Using a wire rack on a cookie sheet. I learned this technique from working in restaurants and it is truly the best method for cooking bacon. Lay the strips of bacon out on the wire rack that's sitting atop the cookie sheet. Then sprinkle the first side with approximately 1 teaspoon of the cayenne pepper. Place in a cold oven and set your temperature to 400°F. As the oven comes up to temperature it will evenly cook the bacon. Halfway through the cooking process take the bacon out and use tongs to flip it over. Sprinkle with the remaining cayenne pepper. This next part is crucial—when the bacon is close to your personal preference level of crispness turn the oven off but leave the bacon in the oven to cook for a few additional minutes. Then remove the bacon from the oven to cool and blot the excess grease. Then drizzle with good quality honey (approximately 2 tablespoons). Set aside.

Bread and Butter Pickles: separate link to recipe

Sriracha Mayo: Mix the sriracha hot sauce and mayo together. I love things spicy so I make mine a 1:1 ratio of sriracha to mayo but add as little or as much as you prefer. You do want the consistency to be thinned though so, a tip*: if you like less heat add a little sriracha and a squeeze of fresh lemon to thin the mixture.

To Assemble the sandwich: Take two pieces of toasted sourdough, place sriracha mayo on one side and the jalapeno pimento cheese on the other side then start layering your tomato (sprinkle with salt and pepper), bacon, lettuce, and bread & butter pickles. Slice down the middle and enjoy!
Notes
My Refrigerator Bread & Butter Pickles are great with this Notorious BLT. A link to my recipe is provided in this post.